Northwest Regional Heart & Vascular's robotic surgery pioneer, cardiac surgery team leader and avid pilot offers an inside glimpse into his work, his team and his passion for helping patients.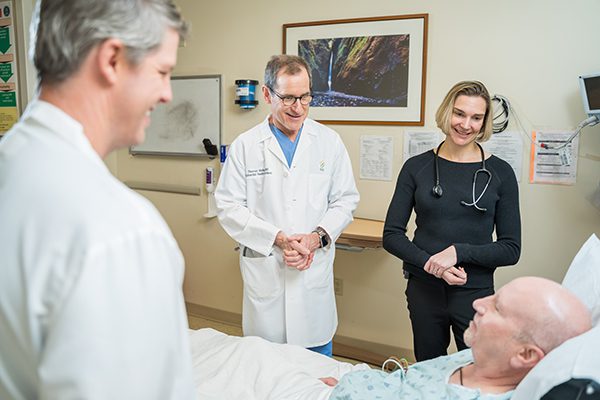 Q: You're known as a pioneer of robotic-assisted heart surgery, especially for valves. How did this become your passion?
People don't like open-chest surgery. Splitting the sternum is painful, and the recovery is long. In the late 1990s, I started performing valve and coronary bypass surgery using smaller incisions approaching the heart between rib interspaces. This required long-shafted instruments and a 2D camera. "Heart port" technology developed by Dr. Stevens at Stanford University in the 1990s was also necessary to allow circulatory support and protection of the heart during cardiac procedures without dividing the sternum, or breastbone.
In 2007, I added robotic-assisted minimally invasive surgery for cardiac bypass, as well as mitral and aortic valve repairs and replacements. The da Vinci surgical robot developed by a surgeon I trained with allows my hands to remotely control precise wristed instruments introduced through ports the diameter of a pen. This avoids the need for a mini incision. With the 3D da Vinci camera, I can zoom to 10 times magnification. This means we can offer exceptional results with a faster recovery, less risk and pain, and a shorter hospital stay compared with open-chest surgery or even surgery that uses a mini incision between the ribs.
Q: With so many advantages, why are there so few heart centers doing robotic valve surgery?
Good outcomes require more than just advanced technology. There is a steep learning curve for both the surgeon and operating team. A consistent team of dedicated talented experts performing robotic surgery regularly is required to achieve good outcomes.
Our valve team of surgeons and cardiologists reviews all cases to determine whether catheter-based, minimally invasive or robotic-assisted surgery is most appropriate. I handpick our operating team and brief every case with them the day before surgery. Patients are cared for a universal bed cardiac unit — the first in Portland — to ensure they receive consistent care by experienced cardiac nurses. It takes a lot of time to build a team like this.
Q: What do you enjoy most about your work?
Most of all, I appreciate being able to offer patients a life-changing surgery that isn't available anywhere else in the Northwest. Great satisfaction comes from working as a team to fix something as complicated as a damaged or poorly designed cardiac valve. Finally, follow-up in our clinic with our patients restored to a normal quality and quantity of life is very rewarding to our team.
Q: You're also an experienced pilot. How did that come about?
I worked a variety of jobs as a teen to pay for my flying lessons and soloed at age 16. I got my private pilot license when I was 17. That same year, I ferried the first of many "bush" planes to Alaska for resale. I earned commercial and flight instructor ratings, which helped finance my Stanford undergraduate and Dartmouth medical degrees. I fly now to meetings, to visit other centers to proctor robotic surgery and for pleasure with my family.
---