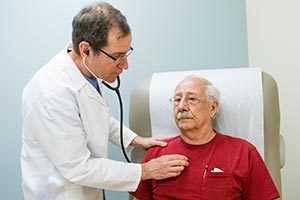 After 33 years as a police officer Jim Hupe has retired and now enjoys sailing around the Caribbean and building a house in Guatemala. Thanks to a minimally invasive heart valve replacement from Dr. Tom Molloy at Northwest Regional Heart and Vascular Jim is back to living his life after a short recovery time.
In 2003 another medical procedure revealed that one of Jim's heart valves was closing. The doctor recommended that he should follow up in 10 years to have it replaced. Jim forgot about this advice until he started having weak/dizzy spells in 2017.
Jim started researching minimally invasive options for valve surgeries. He identified Dr. Molloy at Northwest Regional Heart and Vascular as one of the best surgeons for this procedure.
"When I looked for minimally invasive heart surgery and valve replacement Dr. Molloy came out on top."
So Jim flew up from Guatemala, met with the team and had his surgery in late May.
"He was going to take a picture of the valve for me, but it was so calcified that it crumbled as soon as they started to remove it," says Jim. "He said 'you didn't have much longer.'"
Just two weeks later Jim was in Dr. Molloy's office for his final checkup before heading back to Guatemala.
"I am a little weak, but that's to be expected. I have no pain. I feel excellent. I've seen open heart surgery. Minimally invasive surgery means your recovery time is far less."