When Mark Krueger needed his heart's mitral valve repaired 24 years ago, he did his own research about options for surgery. That research led him to a surgeon in Boston who had a way to repair the valve without opening Mark's entire chest.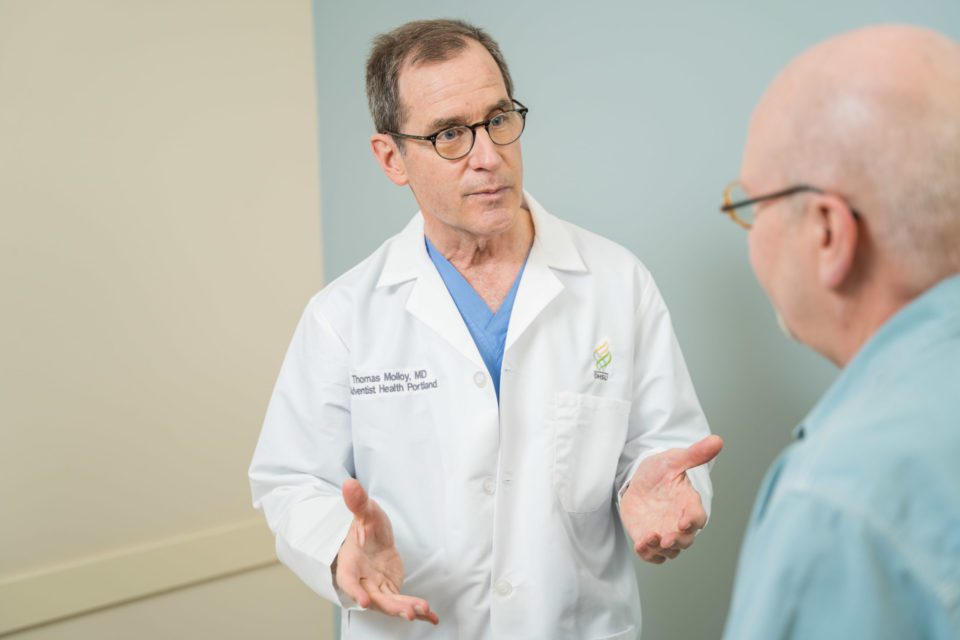 Fast forward to early 2020, when testing showed Mark's repaired mitral valve was barely opening. He needed a complete replacement. Having already had a minimally invasive surgical option, Mark was surprised when his cardiologist recommended open-heart surgery to replace his now-failing valve.
Mark was uneasy about having his entire chest opened, especially since his previous surgeon was able to minimize the incision. "What happened to noninvasive surgery?" Mark asked his cardiologist. "Are you telling me after 24 years, no one is doing it anymore?" The cardiologist assured him open-heart surgery wasn't a big deal, but Mark knew it was.
Frustrated, Mark once again relied on his own research. Online, he searched for "minimally invasive heart surgery Portland," and Dr. Thomas Molloy, director of cardiac surgery at Adventist Health's Northwest Regional Heart & Vascular, popped up.
Mark soon discovered Dr. Molloy regularly performs innovative minimally invasive surgery to repair and replace heart valves. In fact, he has done more than 4,000 of these procedures. Because of his extensive experience, Dr. Molloy is able to decrease the risk of procedures with techniques not available anywhere else in Oregon or western Washington.
At his first appointment, Mark was happy to find Dr. Molloy had all his test notes and records. After reviewing them, Dr. Molloy explained that Mark was a good candidate for robotic-assisted valve replacement surgery, which would involve only several pencil sized ports.
They just needed to wait for the COVID-19 pandemic to settle enough to allow for the surgery. But even in that delay, Mark felt assured Dr. Molloy had his best interests in mind. "He was focused on me, helping me and making my heart better," Mark recalls.
Another delay came as Dr. Molloy awaited FDA approval of a new balloon catheter that would allow him to further reduce risks by avoiding a traditional clamp during surgery. Though hoping to move forward, Mark knew the delay was for the best of reasons. "He was looking out for me," Mark says.
Dr. Molloy also took the time to explain to Mark all the possibilities that could come up during surgery, especially related to existing scar tissue from Mark's previous valve repair. Everything was planned for — vitamins Mark should take ahead of time, the order in which everything would take place and so on. Dr. Molloy's team was so organized, Mark felt reassured by his choice.
Finally the surgery day arrived. Dr. Molloy was able to work around Mark's scar tissue and clear away some calcified tissue so he could sew the new valve to Mark's heart. Mark was grateful to wake to find the entire valve replacement had been accomplished using the minimally invasive procedure.
Though it was hard to be hospitalized during the coronavirus restrictions, which meant his wife couldn't be in the hospital with him, Mark says he was well cared for. "The nurses also deserve a pat on the back," Mark says. "They were really excellent."
Best of all, because of the minimally invasive technique used by Dr. Molloy, Mark spent only 79 hours in the hospital — in on Tuesday and out again on Friday. Two weeks later, he was driving again. Thinking about the much longer recovery of open-heart surgery, Mark exclaims, "There's no comparison!"
Mark really appreciates what Dr. Molloy brings to the table. Mark wants others to know what a wonderful doctor Molloy is and how he covers all the bases so every contingency is planned for. "As I moved through the hospital and the process, everyone I dealt with said, 'I love Dr. Molloy,'" Mark says. "If you need mitral valve surgery, look for noninvasive surgery, and the only person in Portland for that is Dr. Molloy."
Perhaps even more importantly, Mark says, patients should ask questions. "Don't just take the doctor's word for it," he suggests. "Don't be afraid to ask if there's another way, an easier way, a better way."