When Dr. Raymond Tricker says heart valve surgery was the most frightening thing he'd faced in his life, he means a level of anxiety most of us can't imagine. That's because his previous scariest experience came during World War II.
Ray was just a boy when German bombers dropped V-1 bombs on his neighborhood in the United Kingdom. Most of his friends were killed in the street outside. Ray and his mother were buried as their home was reduced to rubble.
Frightening as that was, Ray says it doesn't compare to the fear he felt when he realized he needed heart valve surgery. "That was the most traumatic thing I'd ever had in my life, but compared to this — I think this is the most traumatic," Ray explains.
A former gymnast and an avid endurance athlete, Ray didn't seem like someone who might have heart trouble. But despite being in great physical shape, he was diagnosed with mitral insufficiency. One of the valves wasn't closing completely when his heart pumped blood.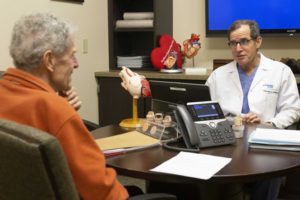 "My heart was very strong and compensating for it, but it was a matter of time until it couldn't continue to take the load," Ray explains. But facing heart surgery raised in him fear he'd never known.
Channeling his fear
As a professor emeritus of public health at Oregon State University, Dr. Tricker was well-experienced in research. He turned that passion to learning about his condition and how best to treat it.
He soon realized minimally invasive robotic-assistant surgery was the best choice for him. "I didn't want to be laid up for six weeks, barely able to move," he says. "Then I came across Dr. Molloy."
Northwest Heart & Vascular's Dr. Thomas Molloy, MD, had performed thousands of heart valve surgeries. His experience impressed Ray, who scheduled a visit with Dr. Molloy.
"I'm detailed-oriented, and I wanted some answers to my detailed questions," Ray recalls. "Dr. Molloy quietly sat there and listened. I could tell he was listening very carefully. He was so calm and so thoughtful."
Dr. Molloy explained the flow of blood backward to the other chamber was really significant. He wanted to help Ray avoid congestive heart failure, which he predicted was likely within five years based on the severity of the leak "It was a matter of time until my heart couldn't continue taking the load," Ray says.
Ray had many questions, but Dr. Molloy was happy to work through all of them "Never did I ever feel I was wasting anyone's time," Ray says. Though he was really scared, Ray knew he needed to listen to Dr. Molloy's advice to move forward with surgery.
Anxiety relieved
With visions of the surgical robot in his head, Ray arrived at Adventist Health Portland for his valve repair surgery. His mind was whirling with fear.
Then he walked in and was immediately in the care of Northwest Regional Heart & Vascular nursing staff. "The nursing staff are fabulous," he says. As the staff prepped him for surgery, he found they were supportive, positive and caring.
"I found myself getting relaxed at last," Ray says. "I didn't really care anymore."
Ray's surgery with Dr. Molloy was a success. "I woke up. I felt no pain. I didn't feel anxious or unhappy," Ray remembers.
Better than imagined
But that was only the start of Ray's good news. The day after surgery, he was able to do some light exercise. In just three days, he left the hospital and headed home.
Before the surgery, Ray didn't think he felt restricted by his mitral insufficiency. But as he quickly returned to cycling and rowing, he noticed a positive difference. "I can tell a difference in terms of smoothness and feeling of ease when I work out," he explains. "I notice a certain ease in the way I move around, how easy things are to do."
Just a month after facing the most traumatic experience of his life, Ray is back to being the endurance athlete he enjoys being. "I just feel so strong," he says.
An incredible journey
Ray is glad he took the time to do research and find Northwest Heart & Vascular. "Something deep inside me said, if you wait, it'll be OK," he recalls. "And it was. Along comes Dr. Molloy with this wonderful technology. I chose it because it felt right."
Today, Ray wants other heart patients to know they have the same choice. "They have options," he says. "By virtue of my training in public health, I'm a strong advocate of that."
He hopes others will find Dr. Molloy and have the same great experience, even if they're worried. "This is the major experience of my life," Ray admits. "It's been an incredible journey."